Well, not quite everyone who has ever worked with me. That would go back decades. But testimonials from a very nice representative sample. Enough to give you the idea.
---
SHELLEY KLAMMER:
"Naomi has a true gift for "loving books into being."  It is difficult to explain the feeling you have when you read something true. It feels like love, or gratitude, or a connection to something larger. This is how I feel when I read Naomi's writing. The deeper place that her words emerge from serve to invite and induct me into a more heart-full and connected place within my own writing.
"Her book has been a source of solace and a reminder that I do have something true to say. We all do. The time that I spend on my book in the morning follows me through my day, and I am blessed with answers to my deeper questions. Even though I only work an hour at the very most in a day on the book, I have begun to deepen around what is emerging. I have discovered, for example, that if I maintain a deeper level of inner silence through my workday, insights flow, and my writing voice is more distilled. This encourages me, and I begin to trust what is moving through me even more. New knowing percolates, and enlarges me. I ask myself often, "Am I creating this book or is it creating me?"
"Beyond my hopes to eventually get published, the process of distilling my understandings into book form is a profoundly enlarging process unto itself. Writing a book is helping me to love my own life." ~ Shelley Klammer, Expressive Arts counselor. Author, How to Start an Art Program for the Elderly

---
DANA WATT:
"Naomi Rose is a true gift to anyone wishing to bring a creative idea or project into form and to fruition. A developmental work session with Naomi becomes more than the sum of its parts. Our collaborations inspire me to remain in alignment with not only myself but also my purpose ~ and to meet my goals.
"She has the innate ability to coax out, in the most gentle and supportive way that which may be holding me back as well as that which wants to grow. She assists in unearthing buried creative seeds and nurtures growth so that a living, thriving form emerges ~ a tangible idea, a new business direction, a workable book outline, a written piece, or a new creative work.
"Whether our session's focus is on developing my book or growing my business, Naomi's non-linear approach to creating births tangible outcomes. With Naomi as my 'creative developer,' I feel well cared-for and well heard ~ and inspired to bring my many gifts and products into the world." ~ Dana Watt. Owner, Writer Watt

---
DEBORAH WELCH:
"I just wanted to thank you for your help in the early part of my book development.  You really helped me to listen more deeply for my soul's calling in what I was writing, to share more of my experiences and heart.
I thought you would enjoy knowing that the book finally got birthed into the world.  I am getting really, really good feedback on it so far. Thanks for your wonderful work with authors like me." ~ Deborah Welch, PhD. Author, Forgiveness at Work: Stories of the Power, Possibility, and Practice of Forgiveness in the Workplace. In print. 
---
CATHERINE GREENE:
"This whole experience of working with you, and rejuvenating creativity within myself ~ I feel has brought me back to life. And part of it is the sheer gratitude that that part of me hasn't gone away and is still accessible. When I'm writing, being in that flow and having the words come out of me is an experience like no other. Because you're giving birth, and you don't have to wait 9 months, and it's not painful. It's a gratification." ~ Catherine Greene. Author, Work-in-Progress
---
KATAYOON ZANDVAKILI:
"Working with Naomi was like having someone who is for you, who keeps seeing you and accepting you. She helped me find the true Story beneath the story I'd been telling myself.
But first, I had to find my heart. Naomi's role in this was divine. Her gift was to help me further wed my life to my art, and in the process, to heal both.
"This is what I mean when I say I couldn't have written the book without Naomi. She is truly my fairy godmother of writing." ~ Katayoon Zandvakili. Author, My Beautiful Impostor: A Story of Persia, Exile, and Faith
---
GEORGE TROY:
"You add a tremendous amount of value. There's no way I could do this on my own. I am so impressed by how much you can write, it humbles me.
Writing with your guidance is like working out: if you keep doing it, it gets easier."
~ George Troy. Author, The Five Laws of Retail: From de' Medicis to Macy's ~A roadmap for retailing in the 21st century
---
BILLY WEPRIN:
"Naomi Rose has been instrumental in keeping the project of the book I'm writing alive. Her insight, understanding, encouragement, and caring have helped me to remove confusion, show me a path, and keep me inspired and going. No one else I know could have aided me in such a way." ~ Billy Weprin. Author, The Gifts of the Day. Work-in-Progress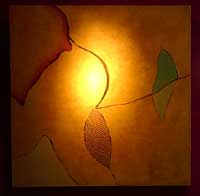 "The role of the artist has often been to shed light on the unseen. The artist acts to make known the unknown, the Mysterious.
"The world, indeed the universe is shrouded in mysteries. Why is there anything at all, why is there life and consciousness?
"In my paintings I have striven to bring to the viewer a sense of the unknown, to question and live in a state of Wonder."
---
SHIRLEY McGINNIS:
"Naomi encouraged me to do the joyful thing, instead of the things I think I should do. This was very affirming. And I felt heard, in a very strong initial way. It's different from trying to write a book on my own, because it feels like what I'm doing is being done in relationship." ~ Shirley R. McGinnis. Author, Sometimes Love Is Enough
---
REBECCA FIELD:
"Naomi reflects genuine authenticity and love more than almost anyone I know. Writing with her is an experience that will stretch the soul. Her quest is to pull out of her protégé the inner core of truth that lurks there, always elusive, but a many-splendored jewel once found.

"And as an editor, she has been utterly exceptional. I cannot imagine another editor on the planet who could step into my shoes and edit esoteric material as beautifully and sincerely as she did. I highly endorse Naomi and her work." ~ Rebecca A. Field. Author, To Choose the Fire of the Cosmos. Foreword by H.H. The Dalai Lama. In print.
---
CAROLYN FRANCIS:
"Naomi is gifted with the ability to create time and space for her writing students to feel our experiences welling up from our roots, their own unique tides coursing through our bodies, and to meld them with the words that name them. Together, we can swim in the language like fish, as naturally as we were always meant to.
"She is also a startlingly gifted writer, whose inspired and deeply satisfying writing provides sustenance to the soul. They are the fire, air, and water of communication.
"Naomi will cherish you, and your work, as you begin to recognize the beauty and poignancy of your own stories." ~ Carolyn Francis, Writing from the Deeper Self workshop participant. Co-author with Clare Marcus, People Places: Design Guidelines for Urban Open Space [Not developed by Naomi Rose]
---
---
---
♥
♥  READY TO START?  ♥
♥
Schedule a free phone consultation with me. Email me at naomirosedeepwrite@yahoo.com, or call me directly at (510) 465-3935 (Pacific Standard Time).
I look forward to the genuine privilege of helping you birth your book and bring your wisdom, creativity, beauty, and healing influence to readers across the world.
It's your turn to be heard, now.
Let's listen together.
Naomi Rose